Welcome to the Tax Day Blues Blog Hop!!!
I am a lucky gal because my wonderful hubby does the taxes every year.. and this year we didn't have to pay. So WooHoo!!
Now on to the HOP!!!
Below is a list of the bloggers participating in the hop, in case you get lost along the way. I am your fourth hop, if you came from: Tristan's Time4Craftin you are on the right track!
My name is Tamara and I am the shopkeeper of Nesting Pretty. For this hop I have created something special for you to peek at. The items below minus one have yet to be listed in my shop.. so I guess you can say that you are getting a little sneak peek of what's to come.
All using a different shade of blue for our blue HOP!!
I hope you enjoy them as much as I enjoyed making them.
As a special treat for hopping along in the fun today.. One lucky gal will win these adorable bear bobby pins......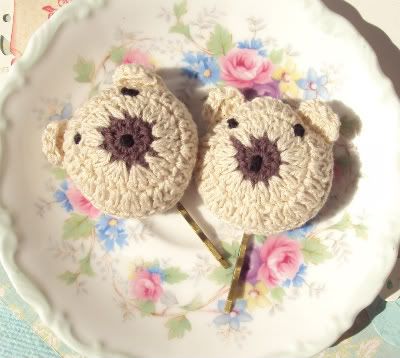 All you have to do is leave me a sweet comment
Click the little follow button on the right ----------->
And leave an e-mail address where I can reach you
That's it.. and you're in.
Thanks for HOPPING by. Your next stop is Expressions By Elaine
If you are not officially included in the BLOG HOP, but would like to HOP along, please do so.. I'm sure the other blog hoppers would love for you to stop by.. and vise versa. You are also welcome to join in on all bloggers giveaway's just by following each bloggers giveaway rules.
The lucky winner of my giveaway will be announced here on Monday the 18th.. so hop back in for a peek.
Have a HOPPY Day!!